India sets out to triple defence exports to $5bn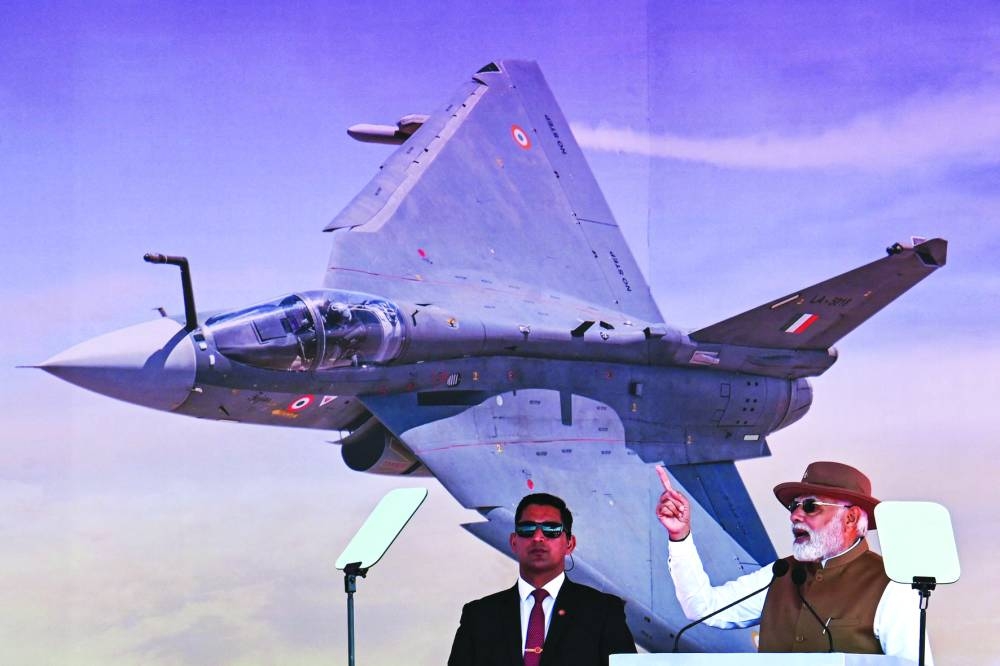 1 month ago
Gulf Times
Indian Prime Minister Narendra Modi yesterday set out ambitions to more than triple annual defence exports to $5bn over the next two years, as arms firms flocked to a major air show for a slice of the nation's massive import budget.The country is looking to sign defence deals worth ₹750bn ($9bn) at the biennial five-day Aero India event, its biggest ever, as its airlines try to complete jetliner purchases to meet civilian demand and press global aircraft manufacturers to produce more locally, mainly through partnerships.India has been one of the world's biggest importers of defence equipment for decades, but it has punched below its weight in the global arms export market.New Delhi's export ambitions are a sign of its growing clout as it uses the leverage of huge imports to attract investment in its domestic industry."Today, India is not just a market for defence companies, it is also a potential defence partner," Modi said in a speech at the show. "I call on India's private sector to invest more and more in the country's defence sector."India exports defence products to 75 countries, he added.Past Indian exports include Hindustan Aeronautics (HAL) Dhruv helicopters to the Philippines, Mauritius and Ecuador and Russia-India venture BrahMos Aerospace's supersonic cruise missiles to the Philippines. HAL has also offered its Tejas light fighter jet for sale to Malaysia.India has also exported other items such as offshore patrol vessels, coastal surveillance systems, avionics, chaff rocket launchers and spares for radars.The air show aims to promote exports of indigenous air platforms such as Tejas, Dhruv, HTT-40 training aircraft, Dornier light utility helicopter and the light combat helicopter.India also wants smaller domestic companies and start-ups to make parts for large defence products globally as well as to attract foreign investment for joint product development and production.Defence experts were circumspect about India's ambition."From just a 0.2% share in global arms exports, becoming a major exporter is a long haul," said Amit Cowshish, a former financial adviser in the Defence ministry and a former distinguished fellow at the Manohar Parrikar Institute for Defence Studies and Analyses in New Delhi."Some of the biggest importing countries, even if they are willing, will find it difficult to withstand pressures from Europe and the US to consider buying whatever little we have to offer by way of major equipment and platforms," Cowshish said.
Continue reading...
Read On "Gulf Times"
More News On "Gulf Times"